Conference Program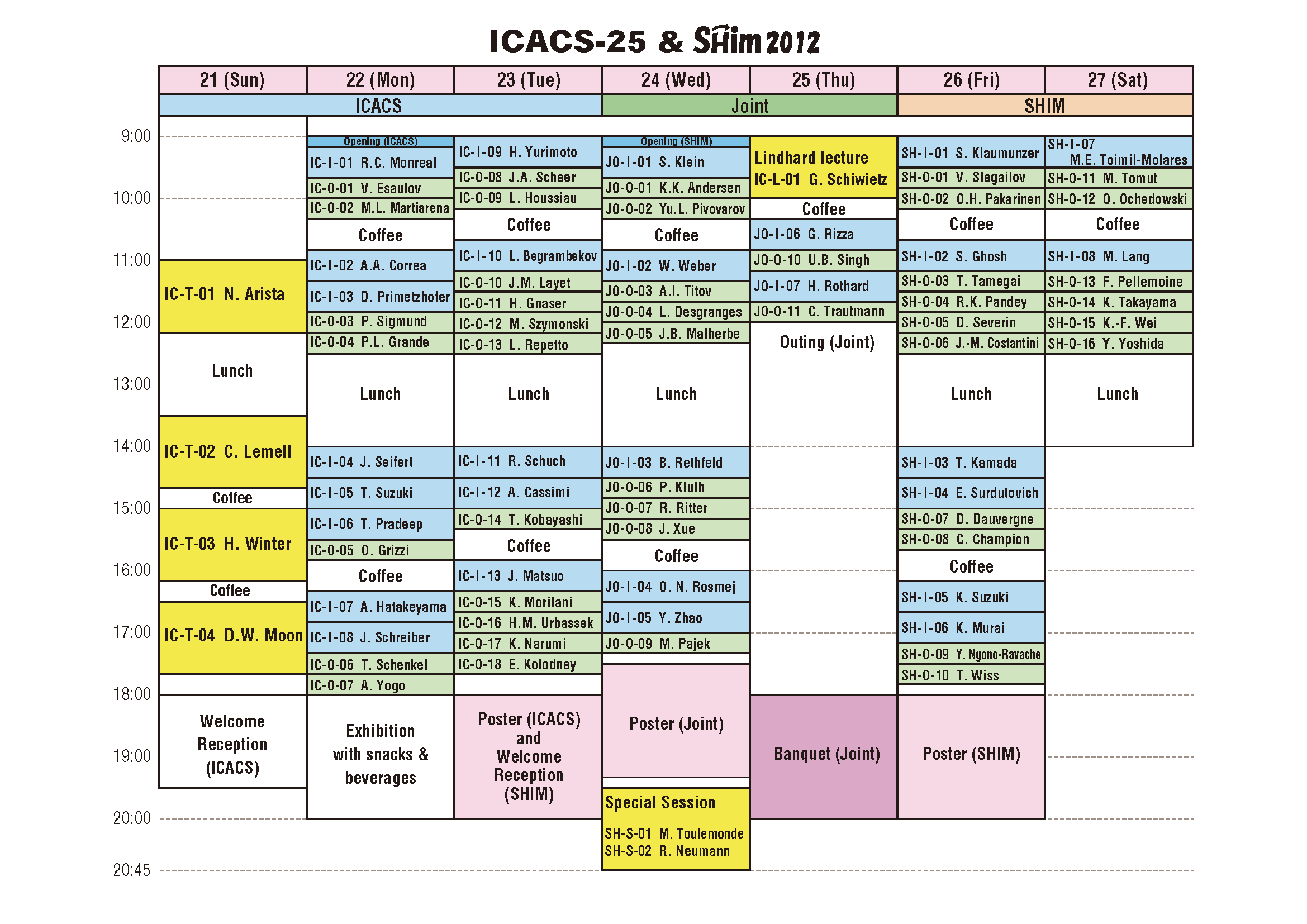 Download PDF version
Book of Abstracts
INVITED SPEAKER LIST
Lindhard Lecture
Gregor Schiwietz (Helmholtz-Zentrum Berlin, Germany)
"Short-time processes triggered by fast ions in solids"
Tutorial Lecture
Nestor Arista (Centro Atomico Bariloche, Instituto Balseiro, Bariloche, Argentina)
"Stopping of light ions in solids"
Christoph Lemell (Vienna University of Technology, Austria)
"Modeling of highly charged ion - surface interactions"
Dae Won Moon (Korea Research Institute of Standards and Science, Daejon, Korea)
"Surface ion microscopy (MEIS & SIMS) for nanotechnology & biotechnology"
Helmut Winter (Humbolt Univ., Berlin, Germany)
"Scattering of fast ions and atoms from surfaces under channeling conditions"
Invited Talk
Leon Begrambekov (National Research Nuclear University, Moscow, Russia)
"Hydrogen and oxygen trapping and retention in irradiated metals and graphite materials in plasma"
Amine Cassimi (CIMAP, Caen, France)
"MeV ion micro-beams shaped by glass capillaries"
Alfredo A. Correa (Lawrence Livermore National Laboratory, US)
"Theory on nonadiabatic forces in ion-solid interactions (tentative)"
Atsushi Hatakeyama (Tokyo Univ. of Agriculture and Technology, Japan)
"Okorokov effect in a magnetic lattice for a slow atomic beam"
Jiro Matsuo (Kyoto Univ., Japan)
"Secondary ion emission with energetic cluster beam"
Carmina Monreal (Univ. Autonoma, Madrid, Spain)
"Auger neutralization at metal surfaces"
Thalappil Pradeep (Institute of Indian Institute of Technology, Chennai, India)
"Collisions of 1-10 eV ions at ice surfaces"
Daniel Primetzhofer (Uppsala Univ., Sweden)
"Excitation thresholds in electronic stopping of low- and medium-energy ions"
Jörg Schreiber (Ludwig Maximilians University Munich, Germany)
"Heavy ion acceleration by laser pulses"
Reinhold Schuch (Stockholm Univ., Sweden)
"Tailoring of keV-ion beams by transmission through insulating nanocapillaries"
Jan Seifert (Humbolt Univ., Berlin, Germany)
"Surface Structure Determination via Fast Atom Diffraction"
Taku Suzuki (National Institute for Materials Science, Tsukuba, Japan)
"Polarized 4He+ ion-surface collisions"
Hisayoshi Yurimoto (Hokkaido Univ., Japan)
"Science of asteroid sample return mission "HAYABUSA""
Invited Talk at joint session with SHIM conference
Spencer Klein (Lawrence Berkeley National Laboratory, US)
"Particle interactions in matter at TeV energies and above: the cosmic-ray experience"
Bärbel Rethfeld (Technical University of Kaiserslautern, Germany)
"Ultrashort electron dynamics in solids irradiated with a laser or swift heavy ion"
Olga Rosmej (GSI, Darmstadt, Germany)
"X-ray measurements during heavy ion penetration in solids"
Hermann Rothard (CIMAP, Caen, France)
"Heavy ion sputtering of LiF, astrophysical ices and silicates"
Giancarlo Rizza (Ecole Polytechnique, Palaiseau, France)
"Beyond the ion-beam shaping mechanism: toward plasmonic applications"
Marcel Toulemonde (GSI, Darmstadt, Germany)
R. Neumann (CIMAP, Caen, France)
"Swift ion-matter interaction (tentative)"
Bill Weber (University of Tennessee, Tennessee, US)
"Effects of nuclear and electronic energy loss on damage formation and recovery"
Yongtao Zhao (Institute of Modern Physics, CAS, Lanzhou, China)
"Inner shell processes in collision of highly charged ions near Bohr velocity"